The Montappone Hat Museum is an exhibition conceived by art director Giuliano De Minicis, reconstructing the various stages of local hat production, from hay making to hat making, throughout documented history.
Type of furnishing project
Museum
Category
Lifestyle | Culture
Customer
Montappone Hat Museum
Location
Montappone (Fermo)
Year
2014
Area
200 m2
Project
Giuliano De Minicis (art director) | Marica Panicciari (lighting technician)
Visual
Dmp Concept
Montappone Hat Museum
The museum exhibits items generally dating from the last century, providing faithful and accurate testimony to the types of headwear worn and the tools used to make them. The museum is arranged as a dynamic journey in which everything is designed to promote visitor interaction.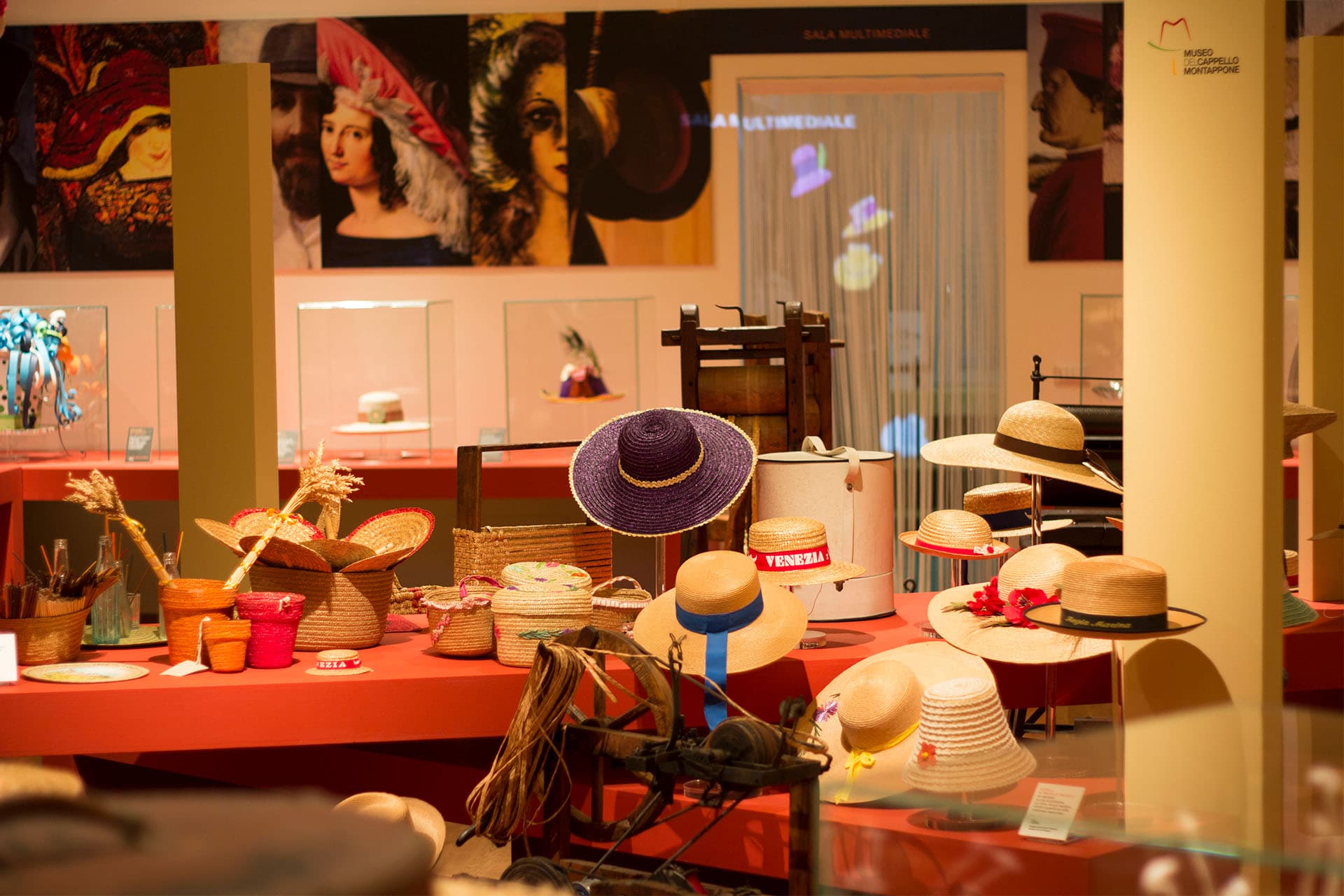 Displays of different heights are interconnected to reflect the traditional straw hat weave. A wealth of photographs illustrates the various phases of hat production in different periods.
Interactive multimedia stations complement the objects on display and assist visitors by providing video-narratives on local history.
Different artificial lighting techniques are used to guide visitors along the route, including direct and point lighting from orientable spotlights and completely indirect illumination concealed in the wooden beams of the ceiling.
This lighting mix, designed by architect Marica Panicciari, achieves a balanced distribution of luminance. While creating hierarchies of illumination, it also provide pleasant, material-inspired ambient light that gives unity to the museum and its architecture, permitting the interpretation of the intrinsically linked and related elements.
Marche, tanto di cappello
An original section entitled "Marche, tanto di cappello" (Hats off to the Marche region) houses a collection of hats made especially for the museum by excellent names from the Marche region.
These superb products help promote and enhance the worldwide image of our region. Brought together here, they form a unique collection of creativity that invites examination.
Rather than being inward-looking, the museum looks outwards to the region's craftsmanship and invites visitors to discover new journeys of exploration for themselves.
The iconography of the exhibition gathers references to the hat from the works of Marche artists distributed throughout the region.